Bachelor of Fine Arts, University of Salamanca, year 2003. Lives and works in Madrid.
His work as a painter has been represented in various collective exhibitions in the national territory, including "No tags" at XF Proyectos, Madrid; "Grades, Edges" at HDT Gallery, Segovia; "Paper Languages ​​VIII", Fernando Pradilla Gallery, Madrid; "Line", Pep Llabrés gallery, Mallorca; "High fidelity" at the Miguel Hernández University of Elche organized by the Martínez-Lloret collection and "60 years of geometry" at the Lonja de Calatrava with the Ars Citerior collection. In 2007 he received the International Plastic Arts Caravan Award, which led him to show his work in different cities such as Belgrade, Ohrid and New York.
Of his individual exhibitions, "Construction Models" stand out at the Pérez de la Riva Cultural Center, Madrid and "False Store Window" at Salmaia Spai Dárt, Altea. In these two exhibitions, his interest in going beyond the plane of the canvas, creating three-dimensional painted objects, is recognized. In the last five years he has continuously participated in the main fairs in the capital, such as Estampa, DrawingRoom, Art Madrid, JustMad and JustLX Lisboa.
In his profile as a curator and organizer of exhibitions, the exhibition created in tandem with Enrique Juncosa "The possible geometries" for the Odalys gallery, Madrid, where he also participates as an artist, stands out. Another exhibition was "Re-presentations" held at the Korean Cultural Center where he brought together several artists from the Madrid scene and artists from South Korea under the framework of the Artmadrid14 fair.
The latest works that I am developing are characterized by the use of elementary structures of geometry, in the composition there can appear colored rectangular masses of various proportions, triangles and straight lines that make a balanced composition and that ultimately propose a search for shapes and colors purer, over wider color spaces. The color in my latest works is characterized by the use of fluorine tones in coexistence with other saturated and nuanced tones. The chromatism in my work also proposes to address concepts such as space, light and vibration.
The elements represented on the canvas are sometimes organized in the margins and others instead occupy the central spaces. All my composition exercises denote a direct link with the idea of ​​a grid, in turn the represented elements have right angles that are drawn in accordance with the support's own parallel structures. All my recent works have a strong sense of balance achieved by the compensation of shapes and colors.
I intend to give my work a more analytical and complex conception as I have been approaching the purity and minimization of forms. The dogmas and foundations in my work are very recognizable, typical of the most popular abstract languages ​​of the 20th century, but that does not mean I lose faith in continuing to develop paintings that aim to generate a state of contemplation or pause in the viewer. of serenity or a meditation exercise.
-"The Riedlingen house". Marimon Gallery. Mallorca 2017 "Honor to form", ArtSur. Cordova.
-"An object, a joie de vivre". Singular hawthorns. Valladolid. "False storewindow". She salmaia spai d'art. Altea. Alicante.
-One project Art Madrid15. Commissar; Carlos Delgado Butler. 2014 "Building Models". Perez de la Riva Cultural Center. Madrid. 2011 "Paintings as objects". Space "The Kingdom S". Madrid.
-JustMad. Stand Arena Martínez Projects "No tags". XF Projects. Madrid.
-"The damn word. Corner Gallery & Studio. Madrid.
-"Identities". Madrid Design Festival. Studio Corner. Madrid "Picnic", connecting outskirts, Casa de Indias. Cádiz 2019 "Nice to see you". Corner space. Madrid.
-JustLXArtfair. Lisbon. Corner space. Lisbon.
-Justmad ArtFair. Madrid. Pep Llabrés Contemporary Art Stand. Palma 2018 "Colour.es". Fernando Pradilla Gallery. Madrid.
-JustLX. Lisbon. Pep Llabrés Contemporary Art Stand. Majorca.
-"Eclectic". Pep Llabres Contemporary Art. Majorca.
-Drawing Room. Shira Gallery. Circle of Fine Arts. Madrid 2017 "Paper Languages ​​8". Fernando Pradilla Gallery. Madrid.
-"Line". Pep Llabrés Contemporary Art. Palm.
-"High Fidelity". Miguel Hernandez University. Martínez-Lloret Collection. Elche. "Papers and collages by Joan Valls". CITERIOR ARS. The Calatrava Market. Alcoi.
-"Degrees, edges". Hdt Gallery, The Tertullian's Garden. Fuenteolmedo, Valladolid. JustMad Art Fair 2016, Gema Llamazares Stand, COAM headquarters, Madrid.
-"The project". Gema Llamazares Gallery. Gijón Open Studio Madrid 2015. Warehouse 6.
-The Cigars. Alicante. Mardel Award Selection.
-One project Art Madrid Art Fair. Curator, Carlos Delgado Mayordomo "Possible geometries". Odalys Gallery. Madrid.
-"60 years of Geometry". Museum of the University of Alicante. Ars Citerior Collection.
-"60 years of Geometry". The Calatrava fish market. Alcoi. Ars Citerior Collection Arctic Space.
-The Soma Cube. Seville.
-The Bath Gallery. Madrid.
-Art Fair, Madrid. Stand of the Department of Painting of the Faculty of BBAA of the UCM.
-UNIA Awards. Huelva.
-Ikas-Art Fair. Barakaldo.
-"Scholars 2009". Exhibition hall of the Faculty of Fine Arts of Madrid.
-Room "La alhóndiga". Segovia.
-"Doctors II". Faculty of Fine Arts. Madrid.
-"Doctors I". Experimental Center for Art and Thought. Madrid. "Cow House". Madrid.
-MC Gallery. New York "Beograd" Gallery. Belgrade.
-Cultural center "Delights". Valladolid.
-National Institution-Cultural Center "Gligor Prlicev". Ohrid. Macedonia National Institution-Cultural Center "Brakja Miladinovi" in Struga. Macedonia.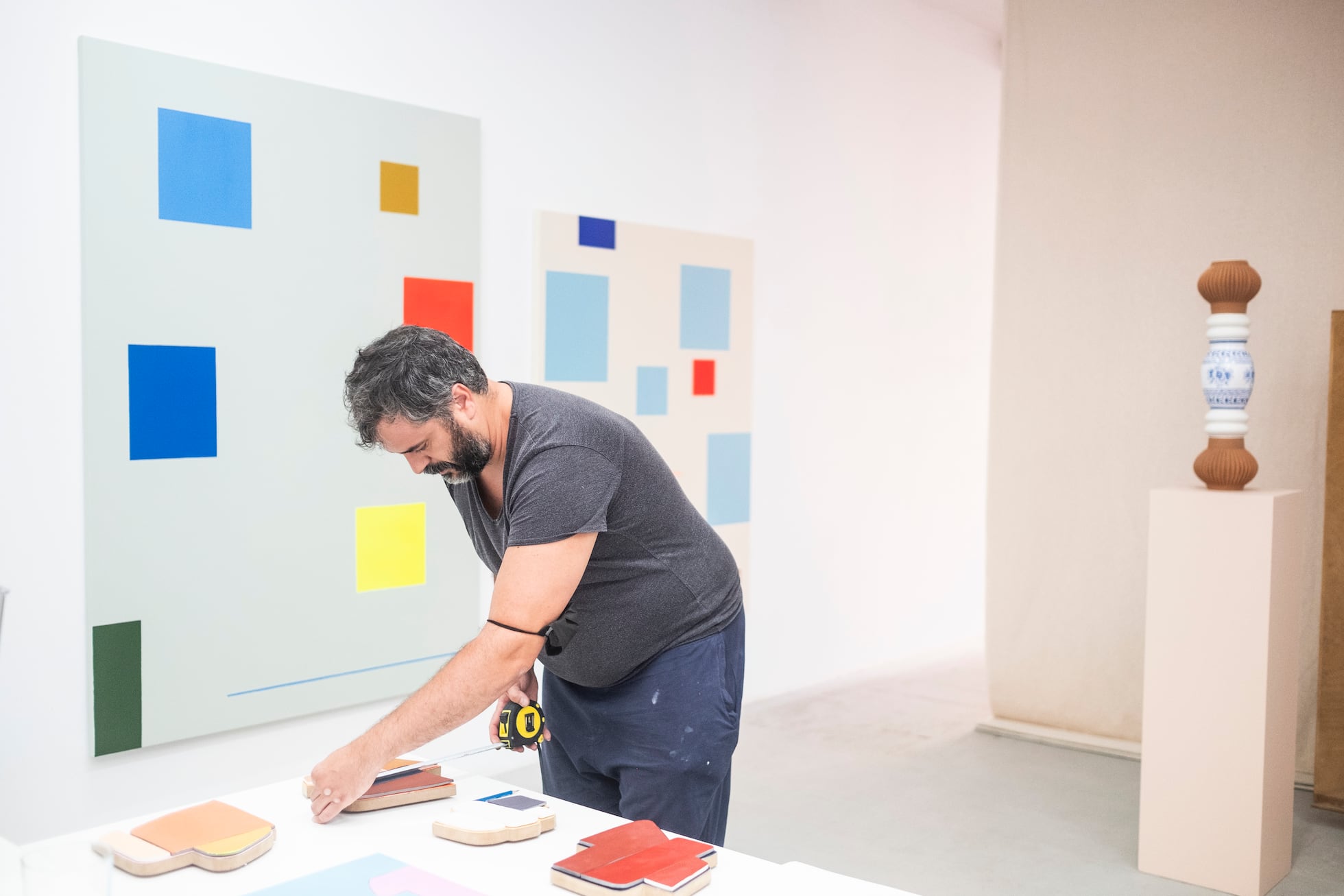 Awards, Selections and Scholarships
-Work selected to participate in the International Festival of Contemporary Ceramics Cerco. Saragossa.
-Scholarship and medal in the Contemporary Painting course at the Palacio de Quintanar. Segovia.
-Plastic Research Scholarship "International Caravan of Plastic Arts Serbia (Belgrade) and Macedonia (Ohrid).
-Scholarship "Albarracín landscape painting". Teruel.
Works in Museums and Collections
-Martínez-Lloret Collection. Elche.
-Ars Citerior Collection. Alicante.
-FoundationAnthony Perez. Basin.
-Royal Academy of San Quirce de Segovia.
-Valladolid Provincial Council.
-Faculty of Fine Arts. Salamanca.
-City Hall of Valladolid.
-Municipality of Wetlands. Valladolid.
-The Alcazar of Segovia Collection.
-Santa Maria Foundationof Albarracin. Teruel.
-Ohrid Cultural Center. Macedonia.
-MC Gallery, Manhattan. New York.
-Dearte Foundation.
-Palace of Medinaceli. Soria.